Folk music's new classic duo, Twotonic, is comprised of Katy Dröge-Macdonald and Steve Macdonald. They have been singing together for more than a decade, bringing the songs they love to audiences on two continents.
KATY
Katy was born and raised in North Germany, where people are supposed to be cool, quiet and reasonable just like the weather – but who ever believes a weather report? She has been a lifelong singer, and a nearly lifelong accordion and guitar player (not to mention the occasional recorder, percussion, and bouzouki).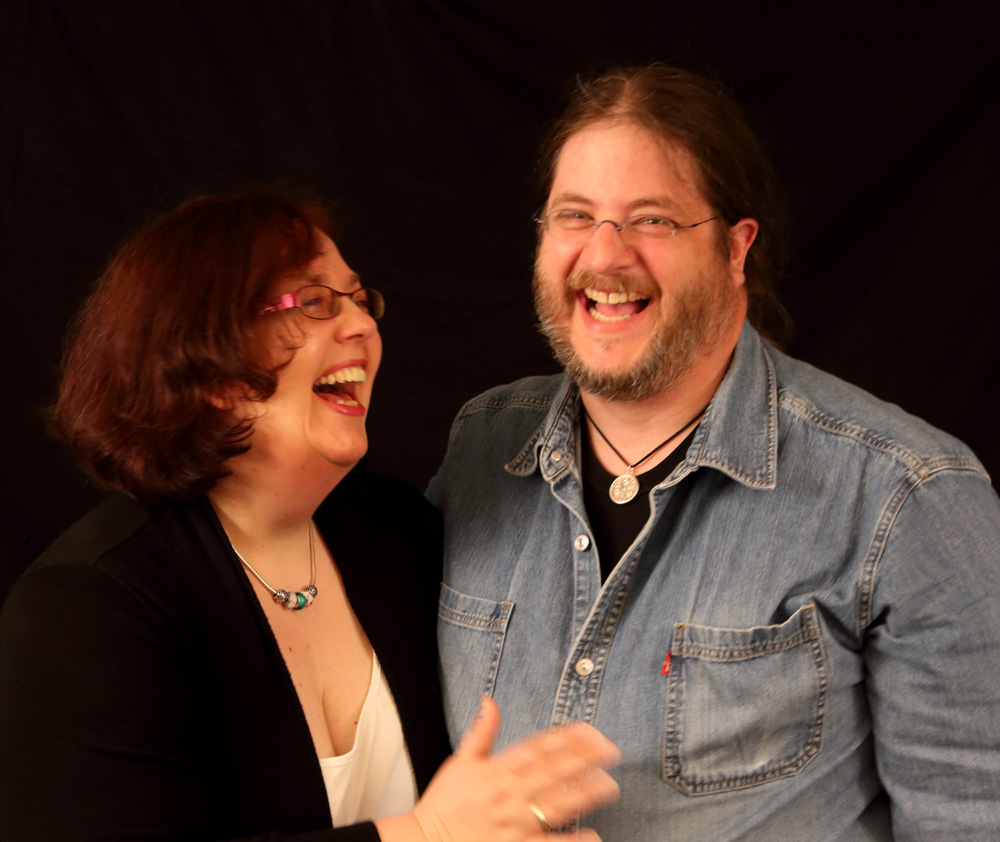 In 1991 she teamed up with Juliane Honisch and began performing as the duo Katy & Yooh, delighting fans in Germany, Canada, the UK and USA. They have produced 5 albums of original material, and have provided backing instruments and vocals for projects by other artists.
In fact, it was at a Katy & Yooh performance in Ohio that she met Steve; and she eventually stole him away from the USA to live and sing together.
Katy also performs with other groups, such as the filk-barbershop quartet 'Barbership' (which also includes Steve), as well as the Hamburg Oratorio Choir, and the Belcanto Chamber Choir.
STEVE
A native of Michigan and avowed Apple fanatic, Steve has gotten around quite a bit. Besides his career as a musician, he has been a bus boy, fast food restaurant manager, carpenter, shoe salesman, worked in mortgage collections.. and he's even made pizza for a living- more than once.
He has since settled down, with a career in IT that spans more than two decades.
From 1981 to 2006, he performed professionally in bars, coffeehouses, restaurants, and Renaissance festivals in the upper Midwest. He released 7 albums as a solo artist (5 of them original material, and 2 albums a mix of original and cover songs) from 1994 to 2006.
In September 2006, he moved to Germany to marry his partner in heart and soul, Katy Dröge. (And for any Americans reading this, yes, it's just as cool as you think it is.)
Steve also continues to perform as a solo artist, but has expanded his range to include groups such as Barbership (also with Katy), the Hamburg Oratorio Choir, and the Belcanto Chamber Choir.
Singing together with Katy is a joy that he finds difficult to express in words; so he supposes you'll have to come see a performance and judge for yourself.
---
ROWAN
Rowan is a 2008 Taylor 615ce Jumbo guitar. Some have affectionately referred this model as a 'guitar cannon' and Steve can heartily agree that Rowan lives up to that reputation.
STORM
Storm is a 2007 Takamine Limited Edition Acoustic/Electric dreadnaught. As part of the Takamine Limited Edition line, only 500 were made worldwide. The rosette and neck feature artwork by Bob Crelin, and make this guitar a feature of Twotonic's performances.
These two guitars together is a feature that helps create Twotonic's lush sound, and is why we chose to name our first album after them.