Our CD: Rowan & Storm
is Twotonic's first album; almost entirely consisting of cover songs we love.
Recorded in April 2014 at Mystic Fig Studios in San Jose under the masterful guidance of producer Jeff Bohnhoff, it was released into this world in October 2014 at the Ohio Valley Filk Festival (OVFF) in Columbus, Ohio.
The title of the album comes from names of our primary guitars, Rowan and Storm.
We are really pleased with the result and hope you will be, as well.
"Rowan & Storm" is now available on Bandcamp!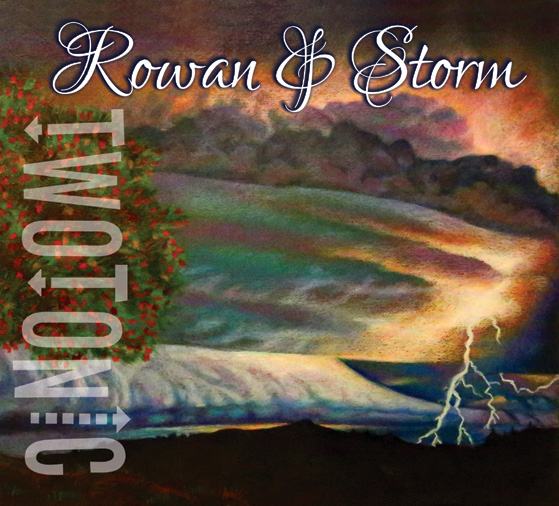 Track List
01. At the Harbour (© 1973 Michael Dunford, Betty Thatcher / Renaissance)
02. Ariel (© 1993 Emil Adler, Julie Flanders / October Project)
03. Building a Mystery (© 1997 Sarah McLachlan, Pierre Merchand)
04. Captain Wedderburn – based on 'Captain Wedderburn's Courtship', trad. / Arr. Great Big Sea (© Sean McCann, Alan Doyle, Bob Hallett, Darrell Power)
05. Kate and the Ghost of Lost Love (© David Robert Carter)
06. The Space Girl's Song (© Peggy Seeger, Ewan Mac Coll, trad.)
07. Superman (© John Ondrasik / Five for Fighting)
08. Teacher (© 2004, Music: Steve Macdonald, Lyrics: Seanan McGuire)
09. Cousin Jack (© 2000, Steve Knightley / Show of Hands)
10. I Would I Were (© 1993, James Keelaghan)
11. Winter (© Tori Amos, Sword and Stone Publishing, Inc.)
12. St. Peter's Bones (© 2005, Nate Borofsky & Tylan Greenstein / Girlyman)
13. Dandelion (© Antje Duvekot)
14. Any Kind of Light (© 1992, Talis Kimberley)
Katy Dröge-Macdonald: vocals, acoustic guitar (Takamine LTD 2007 "Storm")
Steve Macdonald: vocals, acoustic guitar (Taylor 615ce "Rowan")
Our wonderful co-conspirators on this project:
Jeff Bohnhoff: electric guitars, acoustic guitar, 12-string guitar, bass, drums, percussion, organ, synths & orchestration
Maya Bohnhoff: harmony vocals on 1, 3, 8, 9, 12 and 13
Dr. Mary Crowell: piano on 2, 6, 10 and 12 / sampled accordion on 4
Betsy Tinney: cello on 5, 10 and 11
Cover artwork & layout: Beckett Gladney
---
Videos: Our Youtube Channel
When Tom & Sue Jeffers generously shared their videos of our CD release concert with us, Katy thought that it was time to set up our very own Youtube Channel.
So – have a look at us (and our friends) on stage 🙂